Los Angeles:
A Jewel on the Pacific Rim

Los Angeles offers a rich artistic, social and cultural environment that has something for everyone. Bordered by spectacular mountains, enchanting deserts and the Pacific Ocean, Los Angeles is also a global city, with cuisine from all over the globe and world-class museums, cultural centers and entertainment venues.

About UCLA

Founded in 1919, UCLA is one of the world's great public universities, committed to education, research and public service. The school is home to more than 40,000 students each year. Its faculty members are committed teachers and scholars in fields ranging from medicine and engineering to law and literature. Numerous faculty and alumni have won the Nobel Prize, the Pulitzer Prize, the Turing Award and other accolades.

Law School

UCLA School of Law, founded in 1949, is the youngest of the top-ranked law schools in the U.S. The school is celebrated for its excellence in disciplines ranging from Constitutional Law and Corporate Law to Critical Race Studies. Its more than 17,000 alumni are serving as lawyers and leaders in 49 states and more than 50 countries around the world.



 

Venue

The International Language and Law Association conference will take place at UCLA School of Law. Situated at the heart of the UCLA campus, the school features the state-of-the-art Hugh and Hazel Darling Law Library and is steps from the original courtyards and most remarkable architecture on the UCLA campus. Located in West Los Angeles, about seven miles from the ocean, 10 miles from downtown L.A. and 11 miles from LAX, UCLA is easily reached from the 10 and 405 freeways.

University of Los Angeles School of Law
385 Charles E. Young Drive East
Los Angeles, CA 90095

 

 
 
 
 

Facts about UCLA
and Los Angeles

UCLA receives more undergraduate applications – more than 100,000 annually – than any other university in the country
Law schools in the region include UCLA School of Law, USC Gould School of Law, Loyola Law School, Pepperdine School of Law and Southwestern School Law
UCLA School of Law is ranked 11th among all American law schools in terms of the scholarly impact of its faculty, according to the Sisk Study, up from 15th in 2010
Los Angeles experiences 292 sunny days a year
The city of Los Angeles encompasses 472 square miles
The city was founded  in 1781, 69 years before California became the 31st U.S. state
People from more than 140 counties, speaking 224 languages, are residents of L.A.
Top attractions in the region include Disneyland, beaches, the Broad Museum, the L.A. Philharmonic, the Hollywood Walk of Fame, and the shopping district along Rodeo Drive in Beverly Hills

 
 
 
List of Grocery and Convenience Stores
(click at the map below and open Google map with pinpointed locations)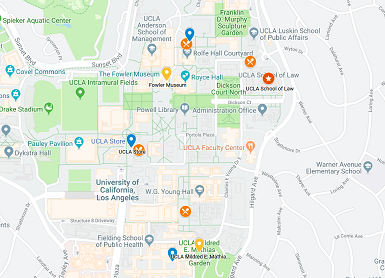 Recommended Options for Getting from Los Angeles Airport (LAX) to Campus
Lyft/Uber: Perhaps the most convenient option, a Lyft or Uber ride from LAX to UCLA will cost approximately $20–35 (clicking on the Shared Rides option will likely lengthen the duration of your trip but result in a cheaper fare). To hail a ride, use the Lyft or Uber smartphone app, input "UCLA School of Law" (or your hotel accommodation) as your destination, and follow the directions onscreen. You will likely be directed to meet your driver at the Departures level, which is one floor above Arrivals; take an escalator or elevator to ascend from Arrivals to Departures.
 
Taxi: Taxis can be found curbside at the Arrivals-level islands in front of each terminal under yellow signs indicating Taxis. Depending on the time of day and traffic conditions, a trip to UCLA may cost $30–50.
 
Shuttle/Van: To take a shuttle, book a reservation with a curbside representative at the Arrivals level. Super Shuttle provides shared rides that cost $19 one way from LAX to UCLA. A non-shared ride costs $86. You may book your ride online in advance at https://www.supershuttle.com/locations/losangeles-lax/.
 
Bus: To use public transportation, wait under the "LAX Shuttle & Airline Connections" sign on the Arrivals-level islands in front of each terminal, and board the "LAX City Bus Center/Lot South" shuttle to the LAX City Bus Center. (This shuttle is free of charge; it runs every 20 minutes but does not operate from 2:00 to 4:00 AM). Upon reaching the LAX City Bus Center, walk to Bus Bay #3 and board the Culver City Rapid 6 Bus. (This bus runs from 5:53 AM to 7:09 PM. Before 10:00 AM, it arrives every 12 minutes; after 10:00 AM, it runs every 30 minutes.) If arriving after 7:09 PM, you can board the Culver City regular 6 bus. (This bus runs approximately every 20 minutes from 5:00 AM to 11:04 PM.) For both the regular and Rapid 6 buses, the fare is $1, which you can pay in cash or coins. Please note that bus drivers do not provide change, so ensure that you have the correct change. To reach the UCLA School of Law, get off the bus at Strathmore Place & Westwood Plaza. The bus ride from the LAX City Bus Center will take approximately 45–50 minutes.
 
Traveling Within Westwood: Walking from Westwood Village to the UCLA School of Law takes approximately 10–25 minutes. On weekdays, you may also take BruinBus shuttles to travel between Westwood Village and the law school. These shuttles are free of charge and wheelchair-accessible. To view a real-time map displaying shuttle stops and upcoming arrivals, please refer to http://apps.transportation.ucla.edu/portal/nextbus/iframe.html.